Ing. Michal Voplakal, Company Director of JORDAHL & PFEIFER Stavební technika s.r.o., believes that work on state procurements represents an obligation for a future generation.
"We must use the best technologies and knowledge just as with development projects. Keeping to deadlines is, due to problems that have arisen in the building industry as a result of COVID-19, only a beginning," he says. This also applies to the new suspended footbridge, which is safely and securely anchored by PFEIFER cables and tension rods in the protected landscape area of Svatošské Rocks, which will welcome its first visitors ahead of time.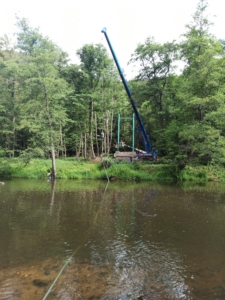 The Ohře River cuts into the granite massif near Karlovy Vary and creates a deep canyon. Gradual erosion formed a group of massive rock pillars, which human fantasy turned into the wedding procession of Jan Svatoš. This young man promised himself, according to legend, to a water nymph but did not keep to his promise and was turned into stone with all his procession. This beautiful place located in the middle of nature is a popular tourist destination and is visited by hundreds of cyclists and pedestrians a day during pleasant summer days. The original footbridge, which crowds of romantic lovers used to get to the rocks, is becoming worn out and a new one is necessary for safety. "Commencing construction in time of the busiest tourist season strengthened by the previous quarantine restriction was quite a challenge," says Michal Voplakal with regards to the situation from the middle of this July.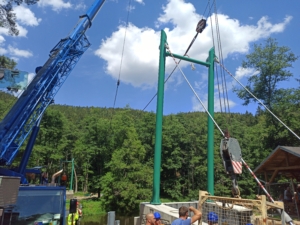 Footbridges are pedestrian overpasses and structural engineers partially turn into architects during their construction and vice versa. The structure has such static reserves so that the footbridge fulfils its function even with one damaged cable suspender, which can happen during an accident or replacement of tension system members. The load-bearing capacity of the main load-bearing PFEIFER cables are hundreds of tons and the same applies to its lifespan, which is suggested for the structure of the footbridge. The traditional producer of the first-class steel cables PFEIFER is represented in the Czech market by JORDAHL & PFEIFER Stavební technika s.r.o. "All our components assist the structural engineers to fulfil their difficult mission – a lifelong responsibility," reminds Michal Voplakal. The new footbridge constructed via investment from the Karlovy Vary region will also serve the integrated safety system for which access has so far been complicated. That also fits into J&P's philosophy – safe structural solutions, which speed up construction time and make invested more efficient. Come and see for yourselves.
PR
https://developmentnews.cz/wp-content/uploads/2020/10/05_Jordahl.jpg
1600
900
petra
https://developmentnews.cz/wp-content/uploads/2019/09/logo-developmentnews.png
petra
2020-10-22 10:07:16
2020-10-22 10:07:30
Firmly anchored between Heaven and Earth